The contents of this page will get sorted as time goes by, as the list of articles gets longer but for know it will be a random eclectic selection. please enjoy..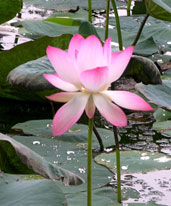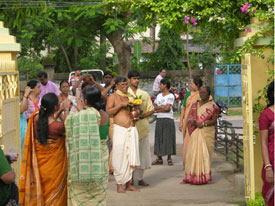 The daylong celebration started with recitation of the Bhagavad Gita at 6.00 a.m. Then the priest and some of the lady devotees went to the nearby lake to bring water in brass pots called "Kalash" after its sanctification, to be placed in the temple at the start of the puja.
The highlight of today's function was the establishment of the statues of Sri Sri Lahiri Mahasaya and Gurudeva Sri Sri Paramahansa Yogananda, which was remaining to be done since the inauguration of the temple on the 9th of April, 2005. This involves the ceremony of "Prana Pratishtha", i.e. invoking the presence of the Gurus and charging the statues with Their prana.
The puja started at about 8.00 am and ended with havan (fire-rite) and honouring the Gurus with garlanding and flower offering at about 10.30 a.m.
Inspiring speeches by Justice R.M. Dutta (Ex-Vice President of YSS, Sri Prafulla Hazra (a direct disciple of Swami Sri Yukteswarji and Paramahansa Yoganandaji) and others followed this. Justice Dutta remembered the many blessings from Gurudeva, which he has experienced over all these many years he has been associated with Swami Bidyanandaji. He also expressed his wonder at the art and creative ingenuity of the sculptor who was able to create such a likeness of Sri Sri Lahiri Mahasaya and of Gurudeva, starting with just one photo of each of these Gurus. Sri Prafulla Hazra, who had met Gurudeva in 1935-36, also expressed his appreciation of the beauty and likeness of Gurudeva's statue. He shared some of his memories of he days he had spent in the Ashram of Swami Sri Yukteswarji.
At the end of the speeches, there were inspiring bhajans and kirtans rendered by devotees visiting Purulia from many places such as Lakhanpur, Ranchi, Kolkata, Burdwan, Durgapur etc. About 200 devotees took prasad.
The evening programme started at 5.00 pm with reading of selected passages from the lives of Sri Sri Lahiri Mahasaya and Gurudeva's "Autobiography of a yogi", and went on till 8.00 pm, interspersed with arati, bhajans, and recitation from scriptures. Swami Satchidananda Giriji Maharaj, another direct disciple of Paramahansa Yoganandaji graced the occasion along with many of the devotees who had also gone to his ashrama to celebrate Guru Purnima in the morning.
In the days the preceded Master's passing there were many indications that something was going to happen in his life. We dared not think that the end of this incarnation for the Guru was at hand even though he said things to Doctor such as, "We will be apart for a little while and then together again."

Master had been out on the desert some weeks prior to his mahasamadhi and told Sister Durga that the end was possibly only a matter of days, even hours.

Master had assumed the karma of many of the disciples and his body was wracked with pain and his heart and legs weakened. But even with the suffering he had taken on, he had little interest in the body. He had told me on more than one occasion that he had to make a great effort to keep interested in the senses. (On another occasion the Guru said," My life is a ransom for many.") Ed. note

He had reminisced with Doctor about the early days on Electric Avenue in Boston where Self-Realization started and they both agreed that it had been a good life – much better than running around to night clubs and other worldly activities. Even then, Doctor was concerned about Master staying here on earth because of what he sensed in Master's words. But Master would always turn our attention to God. He said on that particular occasion that although he and Doctor were the best of friends, his passing would not change that for they would know one another better on the other side.

But as the fateful day approached there were increasing signs of the great transition of the guru. Several disciples had great visions – visions that they had not had before or since.

Finally, the day came when he was scheduled to go to the Biltmore Hotel from where he would never return in this life. We remembered his words to Doctor: "Never mind what happens to me. That light that you see is great than I am."

There is always a mighty disturbance in the cosmos when a great soul passes and there was one on this occasion. An electrical storm thundered over Los Angeles.

Doctor was in San Diego giving a class when Master made his final exit from the body. I did not tell him of the passing until he returned to Encinitas. Then we immediately left for Mt. Washington where the body of the Guru lay in state. Doctor said that he looked so peaceful and that at last he was free from the torments of life and the problems with which he had been burdened by some disciples.

However, when the shock of his passing began to settle in on us it was hard to keep our spirits up for our best friend and Guru was gone.

Some of the disciples experienced visions of Master and reaped great assurance and peace. Doctor was concerned because he seemed to be denied the vision of the Guru until finally, the great light of the Infinite illumined his inner being and he felt great Love and Peace soothe his soul. Then a gentle voice spoke from within the Light and said, "It was I who came to you as your beloved Master."
Dr. M.W. Lewis was Master's first kriyaban in America. TREASURE'S AGAINST TIME is a book lovingly written by Mrs. M.W. Lewis (Mama Lewis) along with daughter Mrs. Brenda Lewis Rosser and her husband John Rosser. They spent years on this book for one reason - to share with devotees the life of this extraordinary disciple of Paramahansa Yogananda. Mrs. M.W. Lewis and Dr. Lewis lived in and ran the Encinitas Hermitage for many years until his passing. Brenda Lewis Rosser also served Master and this work for many years in and out of the Encinitas Hermitage. They currently live in Rancho Bernardo, CA where they continue to hold a Tuesday night meditation originally started in Hollywood many years ago. Each Tuesday evening they listen to a tape of one of many lectures Dr. Lewis gave at Encinitas Hermitage and S.D. and Hollywood Temple's. Mr. John Rosser serves at the Escondido Center.

For more information on the life of Dr. M.W. Lewis with our Master look us up on the web at: www.srfdevotee.com
Swami Suddhananda Giri was younger brother of Swami Satyananda Giri, the boyhood friend of Paramahansa Yogananda.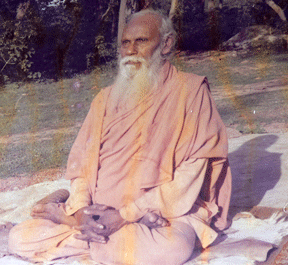 Swami Satyanandaji was also initiated into Kriya Yoga by Swami Sriyukteswarji and together with Paramahansa Yoganandaji, founded the Brahmacharya Vidyalaya and YSS at Ranchi. Both these bothers were living in the Deaf and Dumb School opposite to 4 Gurpar road home of Paramahansa Yoganandaji, and they became inseparable friends, praying, meditating, eating, having fun together. Swami Suddhanandaji had told me that he met Yoganandaji at the age of six.

On the 28th of this month, the birth centennary of Swami Suddhanandaji was celebrated at the sevayatan Satsanga Mission at Jhargram, near Kharagpur, West Bengal. I had the privilege of presiding over this function. Br. Nigamaandaji of YSS also came from Dakshineswar.

| | |
| --- | --- |
| | |
| The function began in the morning with receiving the visitors, which included Dr. Prafulla Hazra, who had stayed with Swami Sriyukteswarji in his ashram at Seramore and Puru for 5 years., and then taken initiation into Kriya Yoga from Paramahansa Yganandaji at the Brahmacharya Vidylaya in Ranchi. He is now 86 years of age, and still in excellent health, by Guruji's grace. He is seen in the picture on right. | |
| | |
| --- | --- |
| | |
| The morning gathering included beautiful devotional singing of songs composed by Swami Suddhanandaji, who had succeeded Swami Satyanandaji as the President of Sevayatan Satsanga Mission in 1971 and served in that capacity until his passing in 1994. | |
| | |
| --- | --- |
| | |
| Statues of Swami Satyananda Giri, Sri Sri Lahiri Mahasaya, and Swami Suddhananda Giri were fully decked with fragrant flowers and garlands, including fresh white lotuses. | |
Swami Virajananda Giri, the present President of Sevayatan, Sri Haripada Ghosh, Secretary of the Board of Trustees and the seniormost devotee of Satyanandaji reminisced about Swami Suddhanandaji's contributions and qualities they had seen in their life-long association with him.
The sandals of Swami Suddhanandaji were taken in a procession in a decorated vehicle, which is the standard modern-day palanquin for such events. There was 24 hour kirtan in the samadhi mandir, and all the school chidren were given prasad after the morning puja.
There was an evening prgramme which included speeches by the visiting monks, devotional singing by singers like Sri Bidyut Pal of Calcutta, and lighting of one hundred lamps on a special pedestal in front of the Guru-mandir.

The programme was an experience of pure devotion of the hundreds of devotees gathered from far and near. I am blessed and grateful for this immersion in the ocean of divine love. The incessant monsoon rains during the whole function added its tests to the organisers, making it a more memorable event for all.

PARAMAHANSA YOGANANDA & CECIL B. DEMILLE
BY JOHN ROSSER
Over the years, our Beloved President Sri Daya Mata has corresponded with me about various subjects. I told her once that when living in Hollywood I was a close neighbor of Cecil B. DeMille. She replied, "In one of your letters you mentioned Cecil B. DeMille. I recall being there when Master first met him. Later on, when he produced his well-known film, The Ten Commandments , some of us had gone with Master to the theater where he was present. There, Master spoke to him again."
During the early days of silent films, the motion picture industry was having a dramatic impact on the cultural life of America. Cecil B. DeMille, co-founder with Samuel Goldwyn of Paramount pictures, was without argument the most successful director to bridge the world of silent movies to the world of talking pictures. His two epic productions of The Ten Commandments , one in l923 and the other in l956, showed both his technological versatility and his enormous directorial versatility, setting a new cinematic standard for the industry. Although DeMille had made his share of worldly movies, he was deeply spiritual and readily admitted it the older he became.
"Let the Divine Mind flow through your own mind, and you will be happier. I have found the greatest power in the world is the power of prayer. There is not a shadow of a doubt of that. I speak from my own experience," he wrote in his autobiography. By his own estimate, he read the Bible and prayed every day of his life for sixty years, finding inspiration that welled up from within, "…always new and marvelously in tune with the changing needs of every day."
In a back issue of an SRF magazine, I found where Mr. DeMille was quoted after filming the crucifixion scene.
"There were 3,000 extras – every creed playing Roman soldiers, Judeans and Pharisees. They had worked magnificently for months. The crucifixion scene was a severe strain on everyone, as you can well imagine. It was the California rainy season and although the huge set was built inside my studio, still it was cold and damp. Fifty wind machines had been hurling dirt for hours. Everyone was grimy, dirty and tired – and yet we were uplifted. When we reached the foot of the cross, I called for a rest. The great pipe organ which we used during the making of every scene was silent.
" 'You can do as you wish,' I told the vast crowd. 'You can laugh, you can sing, you can pray, you can rest. Do just as you wish.'
"Suddenly, they began to sing the old Christian hymn, Lead Kindly Light .
"Out of the thousands of extras and players, fully twenty-five hundred fell on their knees. The organ picked up the hymn. I saw tears streaming down the faces of hundreds of grimy extras. It was as if we had been hurled back 2,000 years. That is why the movie has the ring of truth about it."
Doctor Lewis once said that you could not come away from Master without taking a little bit of God with you. What a tremendous case in point with the life of Cecil B. DeMille.

http://www.yoganandadisciple.com


My recent visit to Kashmir included an inspring pilgrimage to an ancient temple of Divine Mother. The photos are attached.

Here I complete the story of Swami Vivekananda to which I have referred in the attachment:

"Observing the ruins of the temple, Vivekananda felt sad and said to himself: 'How could the people have premitted such sacrilege without offering strenous resistance? If i had been here then, I would never have allowed such a thing. I would have laid down my life to protect the Mother.' Thereupon he heard the voice of the Goddess saying: 'What if unbelievers should enter my temple and defile my image? What is thta to you? Do you protect me or do I protect you? My child,if I wish i can have innumerable temples and magnificent monastic centres. I can even this moment raise a seven-stooreyed golden temple on this very spot.' After his return, referring to this experience, he said to his disciples: 'All my patriotism is gone. Everything is gone. Now it is only 'Mother! Mother!' I have been wrong.....i am only a little child.' " (quoted from the book "God lived with Them", pages 56-57 by Swami Chetananda, RK MIssion Publication)
Kshir Bhavani Temple in Kshmir
In August of 1898, Swami Vivekananda visited Kashmir and during this visit spent some time at the Shrine of Divine Mother popularly known as "Kshir Bhavani". In August of 2006, Divine Mother blessed me with a pilgrimage to that shrine, which is about 90 minutes' drive from Srinagar.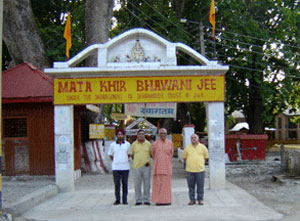 Swami Vivekanandaji had a divine experience at this shrine.To quote from his biography:
"During this period swami's mood was directed to Kali, the Divine Mother. He composed a poem about her, and later went to visit Kshir Bhavani, a temple dedicated to the Mother that had long ago been destroyed by Muslim invaders. Here he had a vision of the Goddess."
This shrine is surrounded by a natural spring of water, which seems to change colour from time to time. It may become black, white, blue, red, yellow etc. It is said that when its colour is white, it is an auspicious time. When it turns black or red, it is signs of bad times. In the 1990s, when the terrorist activities in Kashmir started, it had turned black. Now the colour is dark blue.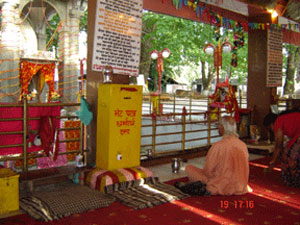 Another interesting thing about this shrine can be notice in the photo of the trees outside the shrine, shown above. The gap of the sky between the trees seems to resemble the map of India.

In keeping with the name of the temple, everyone who visits there is served Kheer (rice pudding) as Prasad.